This report, based on the subject of drugs in one district of Barcelona, was been done in collaboration with "Doctors Without Frontiers" that had a Program of ex-change of syringes. Can Tunis is one of the most degraded areas in Barcelona city. Between the Harbour and the Monjuïc Mountain, is named "the supermarket of drug" because of its relation "quality-prize". They used to arrive from everywhere, some are foreigners, others from different parts of the country, the average of age was 30 years old. Between 20 or 30 were living under the Bridge of the "Ronda Litoral", one of the main routes that goes through the city, in the worst human and hygienic conditions, rounded of rubbish and rats. Others, with a home or without it, used to come up for his doses. And all of them tried their best. Some smoked it; some others looked for any part of the body to inject it. All knew what is and overdose. The National Policemen were there, too, trying to find out any suspect of delinquency. And the memory of the sons, whoever had them, the only positive thing in their lives. Actually, this part is been demolished, but the problem has no disappeared.
EL CORREDOR DE LA MUERTE (From the book lie Barcelona 2004 as Manuel Trallero / Sergi Reboredo)
Welcome to hell, please stop by and see the horror ... yes they can. Here are the plague of the century, held in the lazaretto, that lie in this black hole, this bottomless hole, stigmatized forever. They are there but are not. Here there is no return ticket or return journey, is the last stop, the last station, the last stop. They no longer, have been written off as people removed their human condition, removed from the midst, taken out of circulation, out of sight, excluded from the statistics. They are dead in life, because what is not seen is the powerful reason that no longer exists. A devilish, criminal logic.
I counted up to three consecutive arches as she dug her nails into the palms of the hand, which clenched tightly, clenched his fists, leaned back against the wall and anguish wiped my mouth. He could not, should not pass out, or maybe the reverse order of outside factors ?, in any case should not do me over and over again. But blood flowed endlessly orbits, eyelids narrowed and not to look. I was a seasoned journalist, sometimes even incisive, is not it had been in that ?. He was a grown man.
By the back door of the van, just a couple of meters, a girl the age of my eldest daughter was injected, she had with her a strange resemblance, although perhaps only was my imagination, and pareciesen much as egg to a chestnut. It was the first image, a lasting memory. "How are you holding up?" Eugenia was right to wonder at that moment. "I am glad that ask me this question," he replied in full attack of wit, with the decomposed body and upset stomach. I got no sleep that night, even with the invaluable help of Orzidal, and so several consecutive nights.
Before, yes, I had projected a video, and I had given a few recommendations for my personal safety. But he did not know what it is called a "briefing", a briefing. He was convinced that I would give a cream tea or a cocktail, and luxury cruises, such as "Love Boat," but it was not. Were pronounced a few tips with commanding tone, voice employing hostesses aircraft when passengers show the use of lifejackets, based on "if the flares are lit, extinguish cigarettes, strongly pull the mask .... ". They had serious doubts about the advisability of my shoes, and as one who does not like things, remembered where occasional passersby had pricked with syringes already used, and likely therefore to be infected. I also explained that we were provided with a siren, in case things got ugly, and if the signal is put into operation there had to leave humming. The previous level of acojonamiento was indescribable, the terrible fear.
The hardest, most difficult of all was to accept that yes, this was real, it was happening, and was not just a nightmare, a bad dream. It was true, I was there, aboard a vehicle of "Doctors without Borders", after almost half a year of arduous and endless negotiations, an NGO, four times a week, go there in the program of "Fourth World" in its draft "harm reduction" consisting of needle exchange, priests and referral to other centers. This is not the "Liberation Army" no moral gibberish, no drug addicts or junkies, or junkies or addicts, even patients, here are just users, as if it were the subway or the company that supplies the gas.
At half past three, and even five-thirty, we have opened the stop under a bridge of the Ronda del Litoral. This was our destiny, Can Tunis, and that their homeland. One of these wastelands, dead disappointment remaining for example, next to the tracks, when the train reaches the vicinity of a big city, crossing unequivocally gray suburbs. So it is that a low scrub vegetation, amid open to the four winds that plague, caught between port agencies with a mountain of containers and whole horizon, a knot of highways and railways, populated wasteland houses inhabited by Roma families, who will bring down to extend the port, all under the imposing presence of a cemetery. A landscape of indescribable squalor a "cul de sac", a fatal trap. This is home to thirty people, living in subhuman conditions, although every day go about eight hundred. Only two hours cater to a hundred, on average, each month occur within this time a couple of overdose. Until then they do not reach politicians nor Mr. Pujol in his tireless sabatinas raids around the country on board the helicopter, neither Mr. Pascual Maragall, which yes is photographed walking on a bike without a helmet, though - by "favelas" in Brazil. Here, there are no votes to win, is that not one.
I was unable to lose, to put the foot down, was seized, could not stop sweating. Meanwhile Henry, the driver put a container with water, on a folding table. Brigitte, a German doctor - whose appearance seemed blond Valkyrie put beyond a mirage - stood by the window, and Eugenia the nurse responsible for the matter and a professional crew, attending from behind. He did it with the same freshness a fishmonger in the market of La Boqueria, with more arrests Santiago's horse, and turtle shells. This was the team that day, who had joined me, but at other times I have been enrolled from social workers, to a translator of Russian, or from psychologists to anthropologists.
They arrived as zombies coming out of a "video clip" Mikel Jackson, staggering, walking through a carpet of sea syringes and waste, mixed with mud, puddles of water and their own droppings. In the background some mattresses on the floor, a worn sofa, a doghouse, under a graffiti that reads "The strength is in you. God wants you free ". Nothing, no running water, no sanitation, or garbage containers. What for?. Nobody collects nothing, happens, for example, as in the upper part of the city, on the road to Les Aigües, where a brigade of cleaning is neatly used condoms and tissues, used in sets of love. Here no one sees them, no tourists, does not happen as with immigrants from Plaza Catalunya. Occasionally they spend a bulldozer and leave the flat ground. Yes, the council conducts surveys among them, who should then be published in brainy studies included in full reports and presentations at international conferences documented. They would not be necessary or extraordinary budgets, or scientific research, or the EU funds, here as in India or sub-Saharan Africa, a single hydrant, a hose daily, could save lives. This is a land of missions. To get to shower once a week, it has required the cooperation of three different NGOs, one that puts the staff, "Doctors Without Borders", another ABD, which is responsible for transport and a third, Arels. providing local.
"How many Shiites ?, and have left ?, American Spanish ?, or silver?". This is the dialogue that keeps Eugenia. Some come with the anxiety reflected in the face, the same face that puts a passenger in the airport check-in desk, hurry to comply with the formalities, not to lose the flight is about to take off, looking at everywhere. Others, however, go as slow, parsimonious than enough camera and ask a single needle, exposing his alleged condition of occasional users. For statistical purposes they ask the name, year of birth, and country of origin. There are those who give their full personal details, like getting ready fifths, and other whisper the name and start running like who attend an emergency.
One day in just two hours, is summarized in a summary report, 99 users, the 57.42% are between 30 and 39, 27,72 between 21 and 29 years, 6% has more than forty years and 7 % less than twenty years. The vast majority were Spanish, 68.31%, but there Liberia, Russia, Morocco, United States, Portugal, Italy, Germany. Kosowo, Albania, Egypt, Algeria, France, Greece and Georgia. 736 used syringes were collected and delivered 1,177 by brand. In addition six pieces of silver, 25 Smars, gums for veins, and 42 condoms five priests were made, and two cases of overdose were diverted Caps. Numbers, data. All this has any interest to someone ?. Who the hell am I writing ?. Perhaps only for posterity, that is to forget.
Through the sale of the van rectangular, marches in procession a real court of miracles, is the projection of a film on a distant screen, in sepia tones, like a puppet theater of my childhood, where appearing and disappearing some dolls, he hit a good Slap in fear of the devil at the end of the performance. This is not theater, this time are not cloth and cardboard but actually, humans with varying degrees of physical deterioration evident, which are deposited and withdrawn syringes new. While no one is aware that night, some will sell to those who go for supplies. There limping from the mulatto aided by a cane, dragging all their belongings, even those who have lost practically all their teeth or have bruising and globes under eyelids. But all irretrievably all without exception have lost the brightness of the eyes, are already opaque.
"How are you today Joseph?" Eugenia asked a boy, does not bear going here for 99 years and knows many by name. "Mal, if I'm here is that I'm wrong." Another boy has a wound, is home well, Paseo de la Bonanova. Other times are not simple scratches, but rat bites, here are the size of a rabbit. It is passing before my eyes a cosmopolitan Babel, from jet black Gambia to mature gentleman of Manresa, from arriving by bus, to whom he does aboard a Mercedes luxury, from the gypsy hair ensoritjado to the Moroccan idefectiblemente bastard called the Algerian, until it reaches the Algerian and called the Moroccan bastard, come with the delivery truck company and put on overalls, with books under his arm fresh out of school, or Motorcycle tied by the van to not stolen. They prick and return to their particular tasks.
There are also Russian beautiful, blond color of a fairytale princess with languid eyes and flesh of prison with tattoos up to his eyebrows and veins slashed like razors, not surprisingly some even up to sixty times a prick day, this seems to be the world record, currently set record. They are real ghosts, ghosts almost remember the images of Holy Week, with its steely faces, the pearly meat, blood wires hanging needle, victims of psychotic crisis, scratching incessantly, or rummaging through your fingers.
Not surprisingly this is Can Tunis, the European drug supermarket, place on the continent where they could buy cheaper. It is the Mecca, the epicenter, paradise. It is strategically located next to the port and airport, and well connected to the city, and above must enter and exit through the same place, a mousetrap. They come from everywhere, even some come to Can Tunis for the holidays. This Italian girl with backpack lie down, like camping, she approaches to ask for an aspirin and Eugenia explains that is the effect of cocaine. "I have not taken anything, just come," he said angry while longer.
Amazing things happen. As an magrebi asking loudly who would change a hundred-dollar bill, or a woman walking a stroller with an empty box of fruit inside. They spend two black height of a palm tree, two separate wielding machetes, to go to the harvest cut sugar cane, or a prim-looking girl he had never broken a dish, he drops a gun through the folds skirt. They get a couple of well-dressed gentlemen asking if we saw a guy who is one of them missing from home since a couple of days ago, but which do not even know the name, despite being related to you. Another gentleman also arrives carrying a surfboard, or who intends to sell a varied assortment of cheeses, lost in a supermarket, or a policeman showing a picture of a prison escapee, if we had seen. And a curious pairing of a Russian-sized closet with moon, wearing a jacket three smaller sizes and sleeves barely cover the elbows. It is accompanied by a Spanish softly, like a pitcher who only need to carry beret.
There is also the veteran of Kosowo with probation papers recently acquired, showing who teaches proud as a hunting trophy, or the girl who asks for his daughter Eugenia, and responds to this with her grandmother, while her partner not condemn "Why did you have to ask the kid, why?". We even have an official payroll funny, every day is able to explain a different joke, today has touched us the "Punk". Reads: "Will a punk on the subway with a high crest and orange and an old man looks all the time. Until the kid catches one mosqueo very carefully and asks "What the hell you looking at?". And the other says, "is that once threw me a chicken, and I was wondering if you were my son." The narrator is going at full speed. Xavier arrives, an old acquaintance of the house, has a love hate relationship. Completely seriously argues that the black eye that looks has been caused by a fall caused by a seizure. "I'm just not a drug addict, but also epileptic. What a disgrace. "
Here we go, above all, to "speed-ball", based on a combined white heroin and cocaine, five euros dose. The substances are mixed with water in the "pot", although I have seen even use beer, which is often a simple can pick up soil or water puddles, although the ideal is to be distilled in an aseptic container. Beyond a cigarette filter is introduced, the content is stirred and the syringe sucks said filter. It expires vein producing a pump to increase the effects of the substance, so the needle remains a good time introduced into the vein, hanging from barzo, and the result is that you are putting foreign objects in the body that cause necrosis, abscesses and phlebitis, the "tripe" - so many have problems with limbs, limping or has an arm or hand paralizada- so far in these veins, "poisoned veins" are sealed. The process of detoxification it is known as "clean pipes" or "wash the blood".
Cocaine produces an upswing, until the time of "flash" in which tachycardia, hypertension and piscóticas crises occur. To combat the effects of respiratory depression produced heroin comes to swallowing pills, of psicoptropos. Here is a flourishing market for these products, because many of those who are treated in outpatient centers with these substances, or methadone revendérselos come here to acquire "speed-ball". The "Tranxilium" for example, will drive two hundred pesetas. Some people also consume burning brown heroin on foil and inhaling the smoke given off through the lungs. And there are also consumers of "crack", but the repertoire is by no means complete. One thing, if this everyone agrees. Nobody, absolutely nobody understands the official triumphalism, according to the figures which decreased heroin use in Barcelona. It is a real mystery, even thicker than that of the Holy Trinity.
There are human stories, yes. How do they want ?, large or small ?. Too poignant, or just a little ?. Some are brand-new, by brand, and other old, you sobadas. Some of them are on everyone's lips as the girl who died in the winter of overdose, and within minutes his body was completely naked, he had taken all his belongings, and he did not need. Or that one of the older man, well dressed, with included tie, which will find the dose for your daughter, or of that Russian girl victim of a crisis of persecution, neatly crossed the Ronda del Litoral, and ran into a car hit die. Or the mother who recognized his son on television, came from Leon, when it was in full withdrawal monkey, helped him all he could, but a few days after she died of an overdose.
But that, is who cares ?. Are just that, stories, simple stories, belonging to a discredited journalistic subgenre known as "human interest" that does not interest anyone but happens in distant countries, featuring exotic creatures and broadcast on the TV screen when dinner. Today, for the first time I set foot on the floor, I stepped Can Tunis, Sergi, the photographer says you'd better step on the earth, that the carpet in the offices. It is certainly still young.
My commendable mission, a task undoubtedly arduous, for which not know if I am sufficiently prepared, is to distribute plastic cups, where they can drink the water, we bring in two cans, and provide paper to dry wounds . It happens a sensational thing that leaves me petrified, is that virtually all called users, please ask for things, and give thanks thereupon is really surprising almost as much as someone to listen to them their endless stories, his adventures, sometimes put goosebumps, chills occur. There comes a lady in years, with the syringe hanging arm, and melts in excuse for coming in this way, as he walks away. I have to lean on the van to remake trance
This Merche for example, in front of me, plump. It is 25, is injected from three months ago. Seek help. "If I go out, maybe I can help out my partner. I can not anymore, I can not go ... "while smoking sobbing with tears which are like grease spots. He contracted AIDS from a sexual relationship that became pregnant and miscarried. He has occasionally worked as prostitutes. He has a son of eight years, but took his custody and is a center of the Generalitat. Since then suffers from depression, he spends the day crying. Tranquimacines five or six per day is taken. It is to go to the clinic of "Doctors without Borders". But it never came.
This this other gentleman, tall and well-dressed, asking us money to go to a pension. But money, just money, it's the only thing we did not. He was in a rehabilitation center in Zaragoza and cast him because he said "before I'll hurt someone." Nonsense, real nonsense as it acknowledges, but now a gypsy has trusted him a "papelina". "Where do I go ?, where ?. I met my mother when I was eighteen, is now in Mallorca, serving a sentence for drug trafficking. "
And is Peter, who just got out of jail. Old legionnaire's been a year, for the theft of a "mariconera" a German tourist. "I saw it there, so easy" naturally caught him. In prison it is appalling. For the same administration that promotes TV3, the famous "Marathon", with the effect of raising funds in the fight against AIDS, it is the same as refusing to sharing syringes among prisoners, with a high number of drug addicts. The injection needles are reused in Catalan prisons, leased between ten and fifteen thousand pesetas, for forty or more people, with the obvious risk of contagion.
Peter follows us like a lapdog, they not want to leave him alone. Until mid-December, we are in October, did not charge the dole, "Until then I live, the air of heaven?". "If I get in a pub and I take I get four beers more expensive than ringing here to prick". We walked "Today I stole a pair of shoes to prick. This is my degradation as a person ... I wish I had stayed in the Legion, there is only canutos smoked. "Suffer the usual verbiage after dosing. "There are men who mistreat women, clear that there is, but there are also women who violate damage to men, right?". "This is my degradation as Go back to repeat for the umpteenth time- person so I always clean and neat, I shave every day, to try to differentiate from others. I wash and I shave every day, so, to repeat myself, yes, I am a person. " He has gone from almost everything, like sleeping on the street and being robbed. "I told them," but do not you see that I have nothing, because I sleep in the street, like ?. But they ended up stealing an empty wallet, with all the document. Peter is frankly worried about the consequences of war Afagistán. "We'll see what happens, be cut supplies, more vigilance ...". Pedro Luis rescues us, "and I just hope the bus ... the bus of death", and lets out a laugh. "Twice I went to the hospital ..., but apparently was not the time. The third time lucky".
Is that just become a father, who has the mother of his son, also a drug addict in the hospital after delivery. The baby they had to supply methadone, because it has the withdrawal newborn. He continued going to consume. And another gentleman who is looking here and there until it meets the need for a dose. Sometimes it serves as a "guinea pig" test loading, before they acquire the "camel" to verify the quality of the goods in his own body. "Yesterday I said that this was crap, worthless". Now you are in front of me preparing, before injecting, comes a drop in the tip of the needle, it contemplates stunned as who is watching, the seventh wonder of the world, or the Chapel Sixtima and exclaims: "What a beauty!" And Then he licks and licks pleased. It is not sweet, and therefore has not been cut with Cola-cao, as often happens. While I click explains, "I fight because it is legal, or in any case pass as in Austria or Germany, where you receive immediate assistance, and do not have long queues for treatment. I want my children can say, "My father was a junkie, but he did what he could to improve the situation ...".
Go for a walk with Eugenia. I have a mission to bring a bag of new "Shiites" while she holds the container used to collect and. Undertake the tour, the "city tour" with a heavy heart. "We're an easy target," he tells me when we're in the middle of the clearing a lunar landscape with occasional charred car, piles of garbage, and pony, yes, if a pony have read correctly, grazing quietly tied to a tree, or they would Buñuel and Dalí better. Sometimes, apparently, they fired bullets or throw stones at them from the nearby village.
"You make a great job with us, magnifico". My interlocutor lurches from side to side, but the truth is that I tremble against him, not of fear but panic. From a distance we must form an odd couple. He has taken the traditional lineage that gives cocaine. "I'm methadone. I have no antibodies, but I stuck with "Shiites" used, what happens is that he always carried a bottle of bleach and cleaning syringes. But I have hepatitis B and C. If my wife finds out I put my "horse" killing me ... I had fifteen months in prison, I do not work ... This morning there has been an overdose, and I have collected everything of value lad, then has thanked me, and I told him: "Today for you, tomorrow for me." You know what happens ?, I drugged me because I cut myself speaking, I do not say, "do you think there is something to this?". A thin stream of blood ran down his arm. I swear, I could have put to hum the refrain of the last song fashion, counting sheep, or repeat the alignment of the "Dream Team", but I began to pray the Our Father, mechanically, over and over, without stopping , like a nervous "tic". The cars remained standing in the round, as every day at that time, completely unaware of what was happening a few meters.
Through the bushes they are injected, and village children pass through the midst bike, just like that Eugenia is about users, to ask if they need anything. It's like a home service, "in situm". I stay at one meter distance, time seems to stand still, sweaty hands me the bag slips me, and seems to weigh a ton after a while. I'm about to have an anxiety attack, throwing it all, a shout, and run .... I can not go, break breakup. I'm exhausted, exhausted as if he had been beaten. On the way back I ask my guide "You have a partner?". "My not hold anyone, and do you have ?. couple," she replies. I make a vague gesture with his hand, "You look like you shoot everything that moves", and immediately was made to laugh. It produces a thrill to hear here a laugh, as from a distant world, a remote past.
I wanted to take her in my arms, to hold her against my chest, kissing her again and again back in the middle .... but I do not. Maybe I have believed me, and I think I'm like Humpry Bogart and she's like Caterine Humprub in the "Queen of Africa". What a place to fall in love !. Back in the van, Carme Tapies, the project manager says "The worst day was when a girl asked me, 'But you, you who can, because you come here ?. Do not look like we'll all die, vengais or not. "
Back to base. I hear they have collected to Antonia, I walked alone across the Belt Ronda, direction to Can Tunis. While practicing prostitution in Montjuic, she was raped and robbed. It has nothing, not five, but trust someone to pay something. They try to convince her to go to a clinic to recover from the wounds, but she prefers the road and continue left on the bus. Sometimes the girls, when they have the monkey, applying the "quintuplet" a fifth of the dose, and I come to make a change to the donor fellatio. It is a common practice.
Mrs. Felisa talk to me. It is great news, almost an event. Mrs. Felisa is the maximum responsible for ABD, another NGO, who comes every morning with the corresponding van to carry out work similar to that done by "Doctors without borders" in the afternoon. However it is trafficking NGO, a bit special, because he has won a contest organized by the city. The good woman is worried and I arrived at his office. The reason for their anxiety is knowing what you will write, especially I pray, almost begs me not to say a word "tent", an establishment apparently semi underground. It is a canvas tent, inside which, with health care, users proceed to inject. In Madrid, ruled by the Spanish rancid right there in Barranquillas, a similar town to Can Tunis, one called "drug injection room", the famous "shooting gallery". Here in Can Tunis, when they wanted to install something like hell he broke God is Christ. I still remember a radio program Josep Cuní, in which a representative of the neighborhood association of the Free Zone, opposed installation grounds that they were not against drug addicts, but simply of "drug addicts coming from outside" . Insult me ??I called nothing less than "cheap intellectual", I begged him to withdraw immediately Intellectual cheap ... what was strictly true.
Dr. Manuel Amoro Peminger, he worked at Can Tunis and visit Barranquilla, its findings appeared in a letter in the "Servei d'Informació Col.legial". corresponding to the number 100, from September to October 2001. Among other considerations town after being in Madrid writes: "Vaig com veure be a pot of venopunció espai in condicions, preparat i recolzat per l'Administració. Em vaig adonar which is an indispensable necessitat salut a espai Can Tnuis com. Salut is a necessitat so elementary that no desempvolupalr-la violates the basic professional ethics month. (...) M'he sentit frustart every cop that intentava dur a terme allò that m'indicava the sentit comú i meva experience. Com saw the gent consumed in deplorable condicions d'higiene i queixa aquesta not arribava enlloc per maimed d'interès dels responsible for Public Health. (...) I pogut veure amb els meus ulls com propis the 2004 Barcelona has ciutadans that s'ha hi decidit abandonrar. (...) Is tris adonar molt is that hi-persones to them l'Administració not quals considers tals com. I aquest atemptat drets fonemebtals als month l'individu, aquesta desprotecció premeditated in facing ens fa think there remains a llarg camí, per assolir fair i Democratic Society. "
Meanwhile Mrs. Felisa, good woman, afraid that the "social alarm" will cause, neighbors to stir against him. There is a sensational, extraordinary thing. The Generalitat de Catalunya, Department of Health, gave a new bus. Do you think he know ?. First, exactly what was first starting sticker, the shield of the Generalitat de Catalunya. Everywhere lay the plate, but here in Tunis Can do just the opposite: removed.
The next morning we go with Satxa ', an official of asut, an acronym that vary in time, and that just mean Association we are useful, as Association of Users and ex-users of Addiction The kid is the decriminalization of drugs, treating drug addicts as patients. We carry in your car, behind us is a team of TVE, Sant Cugat, to make a report of the demolition of Gypsy village, and the relocation of its inhabitants, is almost a collective tour. Satxa is a smart guy, very vivid, you have a puzzle piece, and like almost everyone thinks he already has the complete puzzle. "Do not worry so much about the shoes, I would often drive and never punctured". It is a final argument. "Here at night, it's like if you saw the devil fly". Meet worldwide. "Man, long time no see!" He bluntly loose a gentleman. "I've just been in jail. Fortnight, and I caught a drunken charge a phone booth. I lost thirty thousand pesetas, but as there were none, then ... within 'Satxa explains that drug addicts "You have to treat them with care, and almost everywhere all they do is provide them with tranquilizers to be disturbed as little as possible ".
We reached the van ABD. It is like a strong Seventh Cavalry, among the Indians. Hardly anyone off the ground, barricaded behind the fences seem. There has been lucky, as windy today, have not been able to plant the store, the famous "tent" with the onset of winter, though, you can not install and to use one of them old trucks. Distributed breakfasts, and snacks at noon, soft, easy to chew for teething problems. Users who do pay them a thousand pesetas, also give them a thousand pesetas to attending a briefing or collecting plastic syringes or pile. The image is as refugee camps in Somalia or the former Yugoslavia, but the most surprising of all, you get a couple of board a Mercedes car with Italian plates, and get in line to pick up the sandwich, Right as they eat.
Satxa takes the necessary steps, makes introducer of ambassadors, wait. For kill time we went for a walk. Georgina, television presenter is blonde and has twenty few years, in half an hour has smoked more than half a pack of cigarettes, is a bundle of nerves. We walked, and I encourage you "You do not want to be a real journalist?". No I never felt like such an asshole as saying bullshit, does not look up from the ground when we arrived under the bridge, pale, and put an arm around her shoulders, she is shaking. I just say "thank you".
Already they have made the necessary paperwork, and one will pick up Basilio. He is a teacher, an old fighter, a lifetime buried here. It is the connection between the Roma community and the outside world, here is what it says Basil, is a sort of cross between village headman and reincarnation of the Dalai Lama. Look at the group of reporters over his shoulder, left over. "Let's see, what people will want?". It takes a lifetime here, and believe in possession of the key, which opens and closes the spigot of information. It is deeply unpleasant. But it says a great truth. "While non-Roma expelled the drug world, their environment, however Roma families keep their children within them, help them."
Finally we moved to the village. On one side we are journalists, other residents. It seems the meeting of Columbus with the Indians on the discovery of America. Gypsies are a small people, cegijuntos, brown to tetanus, with an oily skin tone, and bright eyes. They are the exact replica of Pancho Villa but tiny. Nobody moves. I have a soon, and I get to shake hands with all those gathered, and ask how this lady, and that such children. I look like a politician on the campaign trail. I presume to man with experience, and knowledge go around. Soon we leave the street, and walked inside.
It's like a fishing village in the south, with its pastel walls tones, tables beneath a hurdle, while a few are playing Parcheesi, and users come and go between dogs and children watching them with clear face disgust. They are two different worlds, two parallel lines, which coexist but do not mix, they never meet. No one bats. Basil complains about lads who do not continue in school, and these look distinctive brand Nike sports Penda, but not on t-shirts or tracksuits in, but as jewelry, such as gold necklaces. Who is more and who less jeweled up in the intricacies of the soul.
The City Council has sold so richly the space they occupy their homes, to make this port for expanding parking of containers and in exchange offers eight million to each of the hundred-odd families. We teach a home, is resplendent, cleaner than the water jets, it is almost like a duplex, an awesome thing. "Where can I find such a thing, for eight million, where?". Television cameras collect statements of Basil and Roma.
"See if haceis something for us," they tell me a gypsy with curly hair and bright eyes, "There is good and bad, but we're not all bad. Because there is some bad apple does not mean that it is all the sack. Here we are cleaner than in many places, why we can not go anywhere to live ?, why, because we are Gypsies? ". When I explained that my grandmother was a gypsy, he replied: "It's the best thing that could have happened in your life" .No have many doubts. "You see this guy this guy ?, His son played at Barca. Yes sir Barça C and Can Tunis, what if it becomes a figure ?, Because it will be a star born in Can Barça Tnuis. The boy looks down surreptitiously, and I wish him all the luck in the world.
Days after our visit there was the occupation of one of the houses abandoned by a group of users is to say of addicts. The result of the invasion was swift. "This is what we needed. Do not just put up with junkies wandering around the clock in front of our houses. Now we sleep, here as neighbors. This can not stand. Let them occupy the houses to get out of here disgusted ". The speaker is Mr. Francisco Perez, alias Kiki, monitor primary school Avialar Chavorro. The statements were collected "El Periodico", the day the owner of the newspaper, he noted that "Groups of addicts occupy the vacated houses of Can Tunis". The subheads reading "The fire of one of the houses raided by drogaditctos been tense mood in the neighborhood. Those affected by expropriations threaten to cut the round if not give them protection floors ". Meanwhile, "El País" headlined a brief "Fire in a housing Can Tunis". Just reading the reviews one could learn that there had been three injured in the fire, something like when a plane goes down instead of giving the news of the dead in the accident holder, the irreparable loss of a Boeing 727 regretted device .
Here the police not come rarely, but nevertheless there was a glaring exception. Explains the Catalan Federation of Sports pigeons, on its website, under the title of "Can Tunis. Lawless city. "
"Since last October, have been happening a number of Palomos Sports theft, carried out in training centers and federal and private properties belonging to various partners columbicultura Clubs in several nearby towns to the capital Barcelona. In total there are over 30 robberies reported in the corresponding local police stations and about 1,000 copies subtracted and worth about 50.000.0000 pesetas. (...) It is feared that the perpetrators of the theft, use our pigeons for profit and perverse actions Suspected perpetrators of theft, selling to train fighting cocks, which the destroy without mercy, or even think which are used to contain substances (...) On November 14, special forces of the national police and judicial by warrant in some houses in the neighborhood of Avillar Chamorro in Can Tunis, were recovered alive 53 specimens, some of them in critical condition found in dehydration, which is feared that inevitably perish within days. During the operation, a large number of dead pigeons, who had been shot dead by the authors of the robbery were found. The bodies of these pigeons lie on the roofs of the neighborhood in a state of decomposition. As they tested the police. "
But that day we returned to the truck to BD. Today was a quiet day, there have been a user to abort the hospital. Prostitute, and customers will demand to sex without a condom. It was a quiet day because of family clans engaged in drug sales has attended a funeral today has been little supply.
We are stopping the Ramblas, in front of gutters, we Sergi, I and a user. Comes bus number 38, but not stopped, has seen us, of course it has seen us !, but it's been long and us. We jumped into a taxi three, and undertake the persecution of the bus, Ramblas below. It is idle to pretend that the driver take us to Tunis Cam, because taxis in Barcelona, ??will almost everywhere except at precisely this to Can Tunis. Taxi jumped on time, and we jump on the bus at the end of the Ramblas. The user wants to pay their share of the taxi, but you're welcome. The vision overwhelmed the mood. It's like a bus south of the United States, at the height of racial discrimination. At the front they say that normal people, who have paid the bill, which would whites. Behind users, and we with them, whom the company has the courtesy of not charging the bill is a detail. In the middle separating the two world are security guards, with their inevitable appearance of skinheads, scraping hair, sunglasses even if it rains. It's the closest thing I've seen in my life, train wagons that deportees were transported to the death camps in Nazi Germany. There is a strong smell of humanity, a little heady aroma that invades everything, permeating to the hair and clothes, as if they had smoked in an enclosed area. They are sitting there, just talk to each other, staring straight ahead, sure to find your destination. Outside the landscape that goes with them, and the imperious blue Mediterranean Sea. They have an appointment with death, while the front passenger, never turn their heads. The "security guards" came to his account, our count, as if we were cattle and suggest a role in the outcome. The trip is over.
The reception committee is made welcome by members of the National Police, in fatigues, the deployment of troops is awesome, motorcycle, on foot, on horseback, in cars or in unmarked patrol vehicles. Sometimes even the previous work done in their own bus stops. It's like catching flies in a honeycomb of rich honey, when the bus arrives, everyone runs away, trying to avoid meeting with the agents, hunting, are like ants trying to escape quickly, like animals caught in a trap. It is very simple. a dense network is formed, and it is selected, sooner or later everything will pass through this control, this impassable border that office. We must teach the documentation, especially the thing of search and seizure orders, or lack residence permits. Then you have to open bags, empty pockets and lay hands on the patrol car. Especially they look for, easily interchangeable paper sheets, stolen items or weapons. Law enforcement, are lurking everywhere, but never get into the Gypsy village, accidentally go !. There is a kind of unwritten agreement, according to which no approach vans NGOs, but this has not stopped more than once they have crossed the wires and even have requested documentation to the volunteers themselves. It is not often, but occasionally some sacrifice, in these circumstances, the consequences can be inerranables escapes.
There is a tunnel smell, almost taste. He goes inside, as cold in the stomach, it's like licking an ashtray, you have something in your body that weighs you, while you see that ajugero lost in the eyes, between two roads that are like two silver endless lines. It is a gloomy landscape, scary just looking at it, he travels occasionally an endless convoy of goods, which seems to have lost that siding with a dull rattle, like a broken music box. Until then he led us Manuel, a Portugese man, to see as brown smoke heorina. There is a bend, a cave full of crap, but provided with a chair. Further he explains that consuming takes five years, working in Berga putting telephone poles, and lives in Torre Baro, with his "old". It is a succinct account, while removing the foil, and again and again smooths to prepare the loop. Sergi is doing the photos,
Manuel continues with mechanical gestures, but precise building their contraption. Live fiddle with hashish for tourists in the Plaza Catalunya. It is like many small camels, while a consumer, five thousand pesetas a day is removed. Remove the heroine of a sock, wrapped in a sheet of green bottle. Place the dose over a foil, and with the help of a burner burning underneath, as he begins to inhale the smoke given off. Heroin changes color and becomes increasingly dark tone, becoming a viscous material that covers the role, becoming smaller, and leaving behind a trail. Manuel gestures increasingly become heavier, and the face becomes pale, while squinting. Sergi continuous shooting, shooting the camera. What the hell will be cast this guy ?, until I noticed him too whiter than usual. Our continuing goal inhaling, explaining that leads hooked five years, and it produces a great relaxation, drowsiness and sleep. It has finished the shoot and I anticipate walking down the road, facing the sun.
In front of me is the police. He is a gentleman with sty and shaved hair, it seems to have escaped from a Kung Fu movie. I ask for documentation, while asking me if I have drug or weapons. In these I appreciate the thickness of my abdomen and pointed cervezero is to escape me laugh, just thinking that someone might suspect that I present a fierce look.
"What is this thing that he has in hand, a knife?" Asks Mr. agent. "A pen," I reply. ¿"A pen?" Again requires the lawman. "A Montblanc pen will mark," he said as if to give more credence to my words, with the brand name. Take the pan in his hands carefully disassembled, like a trap, and found that inside there is only the burden of tints. It returns me with disappointment tiñiéndole countenance. Wield the DNI in hand, while his companion appears. I explain that I am a journalist, and showed him the badge. A Sergi and Manuel also have them stopped. The contrast agent both booklets. "What are you doing here?". "A report". Miss dyed blond Barbie-like, my party colleague, after snorting effort promoted to the embankment of the road says, "What a place to do a story." The look that makes him turn turn away. "What kind of story?" Asks my interlocutor. "A story," I answer without much enthusiasm. "This is a dangerous place, go carefully." I only hit upon to answer "But this is also Barcelona, ??right?". I lashes with the view.
Dr. Torralba is kind enough to receive me in his office in the Plaza Lesseps. It is the municipal official plan on drugs, a perfect socialist official, whose slogan and motto is "I do what I can." I get polish, and to pave the way packed difficulties showed him the photograph that we publish, it is a way as any to start a friendship. He shows not flinch, but a slight shivering upper lip betrays him. It is the picture of "the liberal Quico" beard included. It perfectly explains, it's like talking to a wall, facing, has learned well not in vain lesson his office is inside a large room whose door reads the title of "Imatge i comunciació" a bombastic thing and largely surprising for a place like this. Rebate each and every one of my arguments, and who knows by heart the questions and the correct answers of the catechism. Just you accept me yes, they are actually in horrific conditions, but thanks to him, are not worse. A real comfort, if no water is not his fault, and he instead takes her on drums; If it's cold is not his fault that he closed shelters instead takes them thermal blankets. Methadone programs reach more than two thousand people, and rat bites, he knows have only been two cases. The eighty million to Can Tunis, and in Madrid for venipuncture have room 500. No delays or waiting lists in rehabilitation centers, although it does recognize that the service of the Hospital del Mar, which certainly does not depend from him this past summer was closed three months vacation and work. Come back at any time, but publishing these things, can only cause bounce neighbors - neighbors though, acknowledge that they are more than a kilometer and a half, and if they cut traffic as has happened before, you can not do anything else. The press is already known, it puts the holder to sell more, but inside things right say, is the holder.
This at my disposal to do whatever it takes. The contract with ABD is only for six months, because they are clear monies three different administrations, also because it is not a municipal responsibility, also because the pressure of the market has changed and so has increased the consumption of cocaine has decreased heroin and although I do not understand anything, nor Pope insists again and again that this at my disposal, which users can Tunis non-Barcleona municipality, and "we all have to eat" taken care of, the bus without veneer Government is handing out methadone bus was burned and La Mina, and sheets or speak, you have to not score points for those things that when you want to know more .... No one is happier, if he get rid of me, or I him and finally be able to breathe some air. In the street I think that cynicism is the worst drug.
Susan died. He was the first person with whom I spoke distendiamente there, face to face. It was after September 11. "Americans I'm afraid of them, they are capable of anything. They thought they were safe and now they have realized their impotence, can be terrible, terrible .... ". I knew it well from experience, not surprisingly she was American and explained in the same voice that used Stanley Laurel, in the film "The Laurel and Hardy" a Gansoso Castilian, which reveled in the nasal cavities, and just to have some resonances almost comical, as if speaking in falsetto. Still he had traits of beauty, though I attended their frontline last irreparable damage, and had the natural distinction of ladys, who have learned to drink tea with lemon and read good books from tiny. It was more, but not just anyone, had class, an innate class, highlighting that even in the midst of those dung and human waste, radiated something, an inner strength. Speaking again and again with her, I made a great discovery. The drogaditcos, are not stupid, just the opposite often sensitive, very intelligent people. The discovery gave me much controversy. "How can people be smart self-destruct?" Used to answer my partners. Susan was the answer, but that few, very few knew.
It was an old model, ex hyppy, veteran of Vietnam, was engaged to spend his countrymen smuggled into Canada, to avoid going to the war, and yet by paradoxes of life, hooked precisely heroin bringing fighters back home. He fled the United States, marrying a Catalan and calling in Barcelona. He had his genius, yes, and suffered a real paronia as persecution. "Do not talk about me, please do not ever do, because the rich junkies, I can not see." Explained fights with almost everyone, even "they are bitten me and I spent the AIDS antibodies" but it was endearing. Sergi photographed his last overdose, and a few days we knew had died in the Hospital del Mar. It lasted a lot, to the long history that came at home, as he wrote an article about it for "La Vanguardia" I began to mourn. Talk on the phone with Eugenia, and asks me "Why are you crying?" Is girl has the gift of always doing the wrong question at the wrong time, but I'm crazy about her. She was a daughter of his mother-indeed a journalist from New York a hundred years cumplidos- but we'll find missing. I could only thank God for having known. She was the last, but certainly not the last.
A few days later we went with the SAPS Sergi, a center of the Red Cross, open from 10 pm to 6 week, and drug addicts serving the population, but also prostitutes Raval. We had arranged with Miguel Sierra, responsible, but arrived late and had already gone. Someone asked me if I had written the article on Susan, I said yes, it was me. He congratulated me and said "I liked it a lot." I had one of my typical reactions of recalcitrant shy and replied "Me neither." He did not understand anything.
They located Mr. Sierra, by phone, and this explained to me that I could talk to who wanted, but could only be used for the purpose of publishing what he would say to me, because he was the only authoritative source, were to meet the next day. At the exit gentlemen they were clicking on the stairs and very friendly told, "Come, please come" we did not see with Mr. Sierra, talk on the phone. I Cage in the mother who bore him, I told him everything. Who was he to tell me what I should or should not publish ?. He replied that he guarded the privacy of users of its service, as if perhaps I pretended publish someone's medical history, and also all I wanted was to benefit the pain of others. I could have strangled quietly to have him in front of me.
It has not been a useless death, because although Can Tunis physically disappear, God willing, though not left a single trace, not one stone upon the problem changed neighborhood, siting, will not disappear, of course, but the memory of the systematic inculcation of the most basic human rights that have occurred here in the middle of a terrible resounding silence endures, forever, to our disgrace and shame at the memory of the city. It is prophecy. Susan: I will never forget. It's for you.
Texte: Manuel Trallero
The faces of Can Tunis ( El Periodico)
The book " Traces of faces in a meadow red ( and black ) ' portrays the life of the people who lived at the foot of Montjuïc during the republic , where there were many booklets of the CNT
Evictions and neighborhood solidarity to try to prevent them or to relocate families once driven from their homes has not been invented in the Barcelona postestallido of the housing bubble . Almost everyone in the Cheap Houses Vermell Prat , built in 1929 for the Universal Exhibition , were involved in a very long rent strike that lasted throughout the republic, " with its incessant permanent evictions and their demonstrations of solidarity " as Traces noted in a meadow faces in red ( and black ) . The Can Tunis Cheap Houses in the social revolution of the thirties , (Editorial Virus ) , recently published book by Pere López Sáchez , which tells the story of the people who inhabited the neighborhood , historically labeled a marginal , but had "a flow dignity , desire and longing for emancipation culture that lay at the foot of Montjuïc " Lopez Sanchez was in charge of rescue and vindicate .
Protagonists of the heap
In its 400 pages, the author proposes , Tomás Ibáñez explains in the prologue , with the suggestive title Death never beat the first , " glossing the exploits of those who were protagonists of the heap of that revolution ," in the neighborhood that in the house there was a card from the CNT was because there were two . " Protagonist heap " as Lucio José Gómez Araniz , years later exiled and whose name appears on the list of 276 "individuals classified as dangerous anarchists " that the Security Directorate of the French police declared " closely monitor foreign " or Andrés Navarro , the Alfalfa , militant union CNT Timber , enlisted as a militiaman in Durrruti column , which defected , who participated in the fighting in May 1937 and was sent to a disciplinary battalion .
"This could be Monaco and Monte Carlo ! ". This realistic and raw statement of testimony opens the tour that fits Lopez Sanchez. "Soon there will be nothing of that , though intending to endeavor to recover the old names : Prat Vermell ? , ? Marina? , But ... What fields ? What sea ? Better to leave him free zone . Does that sound ugly? What has little spark? What little too gray or green ? ... "Continues , criticism , that same voice in the same chapter .
Traces of faces in a meadow red ( and black ) relates through interviews and an unwavering fruit research , how these people evicted for not sully the image of the city for Expo ' soon joined that that hidden and inhospitable corner was his . " The history of a people who " fought and pushed for a better world ." His legacy was the Ateneo Culture Labor Defense , the long rent strike , the many other factory struggles Vermell Prat in the Arenas in Alena , and many others.
The work of López Sánchez , a specialist in "the Barcelonas rebels" also includes a moving photo album of the era.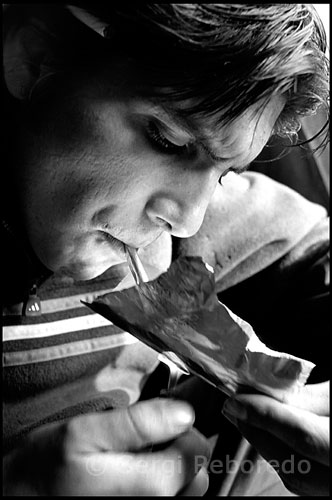 Can Tunis, droga y arbustos
Free Zone in the open only go wandering drug addicts and volunteers from humanitarian organizations. BBC 28/03/2000
The first 15 minutes in the Can Tunis neighborhood , next to the Zona Franca, are devastating . On one side , the coastal ring road , the other , a group of shacks where they live gypsy waiting to be relocated to various parts of the city in the next two years families. And in the center , a clearing of land with some bushes , behind which some addicts caught by Mono calm desperation injecting himself with an dosis.A three in the afternoon, like every day from Monday to Friday , a van Medical without Borders parked in the open and opens its doors . Four volunteers are responsible for supplying the drug sterile bags containing a syringe, a bottle of water and some alcohol wipes to prevent infection by pricking . Also give them a condom. The rear of the vehicle is used to heal the wounds punctures in the veins poorly made , and to inform, to request, medical services , social and detoxification in the city.
As the evening progresses , Can Tunis loses its sinister look and some addicts are approaching the van. A talk with the volunteers, who already know them , others go to the infirmary to heal and others turn to inquire in to the drug. The atmosphere is quiet , not aggressive : "We have never had any problems with them," says Isabel , a volunteer . On the background a wobbly man appears , walking slowly , dragging his feet. Isabel addresses and explains that he went to register the methadone program that you recommended , but not until next week begins : "And what I do until Wednesday ? " Asks disconsolately . Explain that takes from 14 years in the world of drugs , he got leave for nine months with methadone treatment but relapsed . " Why? " . " The same question I 've done thousands of times."
Jordi , a Catalan sympathetic 29, also wants to disengage. Explain that started smoking pot , but one day, when I was 20 , came running with some friends and endure more esnifaron a line of heroin : " And I was hooked I was engaged for five years after I went to a farm . . detoxification and date again. workshops We'd learned to ride ...I left at all! and after three years, to celebrate my birthday, I got a line thinking that nothing would happen and three days back . that a year and a half ago. come only on Fridays and Saturdays, and thanks I have a job that keeps me busy . " Jordi wants to leave and recognizes that MSF volunteers help a lot , but adds : " To get off drugs only need one thing . Willingness What happens is that there are some who are so depressed they say they just want to die . But lie, are the first to want to live."
Isabel explains that there are two groups of drug users in Can Tunis . On one side are those who work and go to Can Tunis to seek drug prick and go. No one really say that they are addicts. The other group consists of those who live by and for the drug. Most come from unstructured environments and living on the street or outdoors on the grounds that surround the neighborhood, in a painful hygienic conditions.
Drug Can Tunis , Isabel explains , is very bad and not hold anything , so that those who are really hooked needed dose every four or five hours. Some of them do not have the strength to get to the van. Are drawn behind the bushes . Volunteers come to them , ask them if they want to collect used syringes and to avoid infection from AIDS or hepatitis, which are the most frequent. Consuelo , financial project leader, explains that this is a program of prevention and harm reduction: " We do not try to force them to stop drugs if they want them to derive social and health care centers , but if you do not or can not . , we will not leave hanging . drugged If at least do so with good hygiene."
Doctors Without Borders is a year working in Can Tunis . In his opinion, the best strategy for improving the living conditions of drug users is the installation of a geriatric care center with room for controlled injection , medical care, social counseling , psychological support, food and detox programs.
However, after complaints from neighbors of the Free Zone for the possible installation of a shooting ( for controlled local venipuncture) in the area, the mayor of Barcelona, ??Joan Clos, announced a few days ago that this service will not be installed but a mobile facility , possibly a bus, which will extend the time that now cover MSF and Àmbit Prevenció , other NGOs will Tunis Can the mornings. They are little more than five in the afternoon. Volunteers collect their things and bid farewell to Can Tunis . Some addicts also go, others spend the night there, lost in the bushes.
The 'drug bus' Can Tunis stops circulating and gives way to a new line
Paral·lel to Prat, through Free Zone. 20 minutes. 27/06/2006
Line 38 bus, known as the bus of the drug, because carrying addicts Can Tunis, made his last journey yesterday. With the disappearance of the shantytown and commissioning, as of today, the new line 21, 38 has passed into history. The new service now covers the journey between the Avinguda Parallel and the train station of El Prat de Llobregat, through the industrial and logistics park Zona Franca and following the Ronda Litoral. 21 increases the performance of 38, which is expected to attract new users. The bus connecting with Mercabarna and the Zona Franca industries, where more than 43,000 direct jobs. For residents of Prat, the bus 21 is a means of direct transport to the center of Barcelona without going through the Gran Via and Plaça Espanya. In addition, the connection with Renfe allows transfer service with various urban or suburban bus lines Prat de Llobregat. In Barcelona, ??the path 21 is short and direct (www.tmb.net), with start and finish in Parallel corner Fontrodona (connects L2 and L3 metro and buses 20, 24, 36, 57, 61, 64, 91, 120, 121 and 157). The 21 works daily with frequencies of 20 minutes labor and 30 on Saturdays and holidays.